FireFly Overview
FireFly is a multiparty system for enterprise data flows, powered by blockchain. It solves all of the layers of complexity that sit between the low level blockchain and high level business processes and user interfaces. FireFly enables developers to build blockchain apps for enterprise radically faster by allowing them to focus on business logic instead of infrastructure.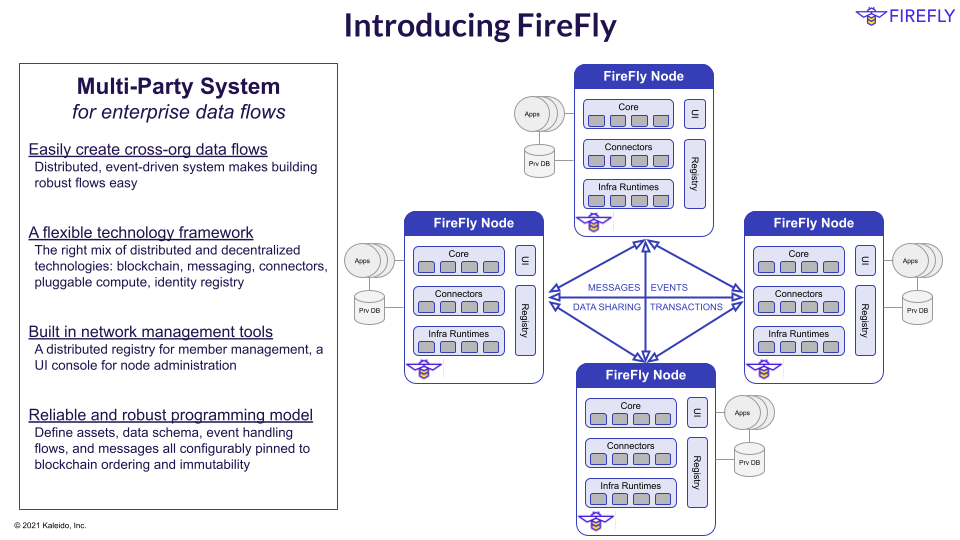 Event Agenda
This workshop will guide developers in setting up FireFly on their machine as well as a complete dev environment to be able to contribute code back to the FireFly project.
What to expect
By the end of this workshop you will have:
Understanding of the components that make up a FireFly stack.
FireFly development environment setup on your machines/servers.
Sample apps running in your development environment.
Learnt how to building apps that run on FireFly.
Learnt how to make changes and contributions to the FireFly core itself.
Getting Started/Pre-requisites
Please check your readiness by checking out the Prerequisites section of the workshop guide before the event.
Save the Date
Date: 02 September 2021
Time: 6:00 PM IST
Duration : 1.5 Hrs
Zoom Meeting Link: https://zoom.us/my/hyperledger.community?pwd=STZQd0xMZU9xRVVOVnpQM3JNQ2dqZz09
Cost: Free
Check out event details on: https://lists.hyperledger.org/g/community-india-chapter/viewevent?eventid=1255449&calstart=2021-09-02